Nicely Inspiring Compassion Everywhere
Information about the event 'Herald A More Vegan 2021' is below. A link to the Youtbe video of the Vegan Thanks-Living Demo at Rancho Park in 2020 is further below. For the time being, information about other activities of the group is not here, but at the NICE Facebook group.
Herald A More Vegan 2021 in Los Angeles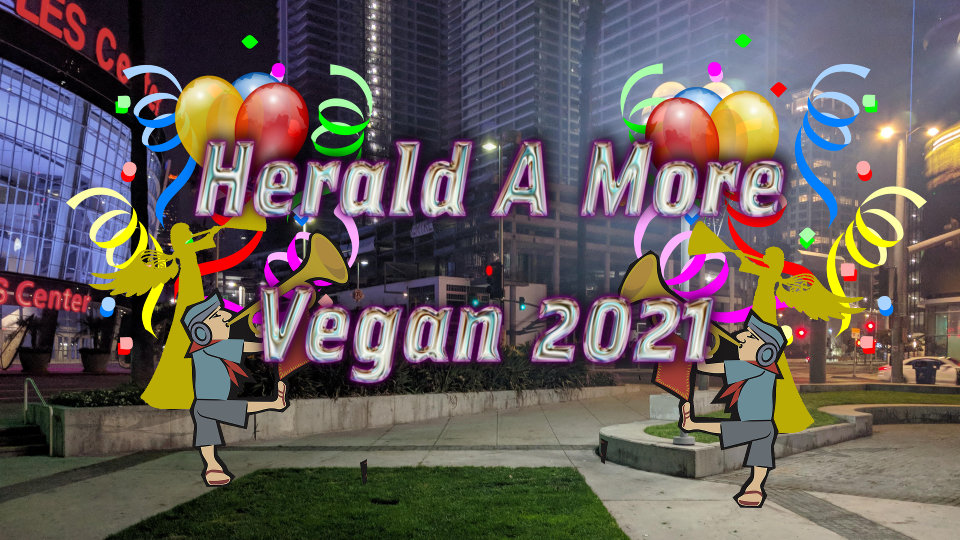 Facebook event page.

Event Flyer.



Herald A More Vegan 2021
December 31st, 2020 9:30PM to January 1st, 2021 12:30AM.

You are invited to join some of us in envisioning and heralding a more vegan 2021. This event is Friendly Interactions Only, Likely Safe & free.

You are encouraged, but not required, to bring your own friendly signs and musical instruments. You do not have to RSVP. Just show up with or without other vegan / vegetarian / non-vegetarian friends / acquaintances / children. Please be civil and considerate of the attendees and others around us. Please do not attend if you suspect that you are contagious with an illness. Shortly before the event, please familiarize yourself with the latest COVID-19 related regulations for demonstrations in Los Angeles.

Dress warmly. Consider bringing a blanket or chair to sit on, an umbrella if there is a chance of rain, and vegan snacks and water for your own nourishment. Leashed friendly dogs and other non-human animals are welcome. Use restroom before you come to the event as no public restrooms may be available. The closest customer accessible restroom found was about 4 bocks away at Ralphs at 645 W 9th St, which is open till 1AM.


LOCATION:
Gilbert Lindsay Plaza, 1201 S Figueroa St, Los Angeles, CA 90015. We will be just South of Staples Center at the Plaza in the SW corner of 12th and Figueroa. The Pico station on the Blue line and Expo line is about a block away. The exact location is where the heralds are in this event's image.
PARKING:
Apparently free public paking is right acrosss the street at Circa, 1200 S Figueroa St, CA 90015. Public parking in L2 to L5 is advertised at $10, but the attendant said it was free after 9PM (and around 10PM on Sat 26th, we did verify that we were able to enter and exit the lot without having to pay).
CONTACT:
For more information, you can call Aouie between 9AM and 9PM (or during the event) at 323-ninety then two-68 and last 2 numbers are forty-three.
PROGRAM:
9:30PM: Gather. Hold signs.
10PM: Visualization for a more vegan 2021.
11PM: Heralding of a more vegan 2021.
12AM: Celebrate the arrival of a more vegan 2021.
DISCLAIMERS:
Unless stated otherwise, organizers and participants do not assume any related legal obligations, responsibilities or liabilities, but are expected to behave in a civil and orderly manner, and adhere to any event policies. Participation is at their own risk. Indoor activities, outdoor activities, in-person social interactions and sharing foods have some associated risks, including injuries, allergies, transmissible illnesses and food poisoning.

---
Vegan Thanks-Living Demo at Rancho Park On Thanksgiving Day 2020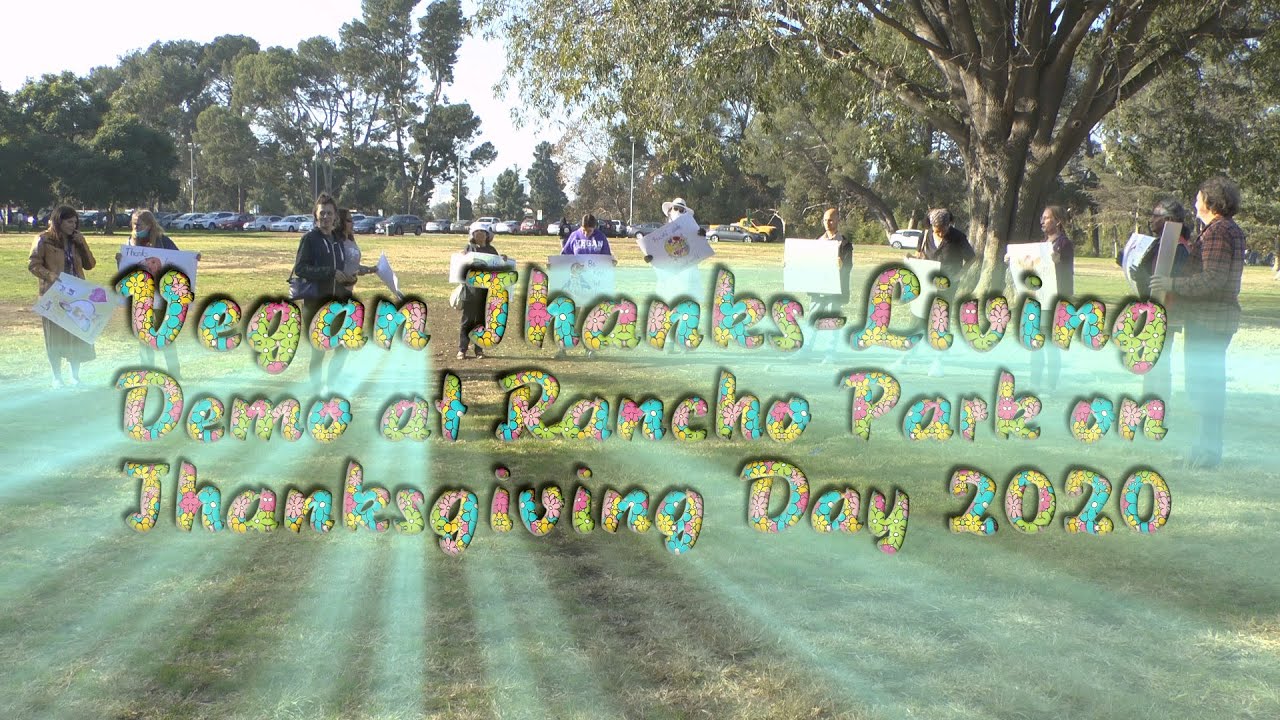 Click on image for the video of the event.

About 40 of us ventured out to the 2020 rendition of the 28+ year annual vegan event at Rancho Park on Thanksgiving Day in Los Angeles for the Vegan Thanks-Living Demo. The event was a tribute to birds in many ways including a Bezurkey Turkey Dance, Bird Yoga, speeches about birds and Bird-Like Workouts.

If the 12 min video is longer than you would prefer, then consider the below or just skim through the fuill video.
Bird-Like Workouts 2m 16s
Vigil and Parade 2m 16s
Opening Ceremony which includes the Bezurkey Turkey Dance, Bird Yoga and a love song. 6m 27s


---
If you have any related queries, then you can contact Aouie.