Nicely Inspiring Compassion Everywhere
Information about the event 'Vegan Thanks-Living at Rancho Park on Thanksgiving Day 2020' is below. For the time being, information about other activities of the group is not here, but at the NICE Facebook group.
Vegan Thanks-Living Demo at Rancho Park On Thanksgiving Day 2020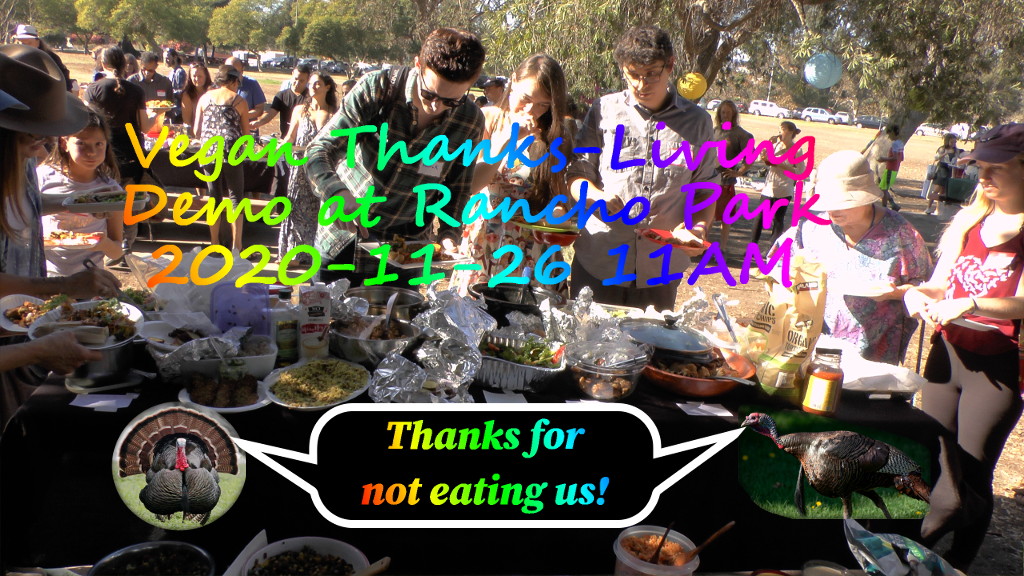 Click image for promotional video for the annual vegan event at Rancho Park on Thanksgiving Day.

Facebook event page.

Event Flyer.




November 26, 2020 11AM to 3PM.

You are invited to join many of us in protesting the annual turkey massacre by demonstrating Vegan Thanks-Living on Thanksgiving Day. This event is Friendly Interactions Only, Likely Safe & free.

The Los Angeles vegan community has had a vegan event at Rancho Park on Thanksgiving day for 27+ years. The format of the event has been changed from prior years to more clearly align with constitutionally protected activities. You are encouraged, but not required, to bring your own friendly signs. You are encouraged, but not required, to bring a traditional or creative vegan dish that you would like to see at vegan Thanksgiving feasts (no animal products: no meat, no dairy, no poultry, no honey, etcetera). Please bring the ingredient list. After the opening ceremony, you may eat your own dish, or provide it for food tasting. You do not have to RSVP. Just show up with or without other vegan / vegetarian / non-vegetarian friends / acquaintances / children. Please be civil and considerate of the attendees and others around us. Please do not attend if you suspect that you are contagious with an illness. If you can help with setup, then please arrive at 9AM.

PROGRAM:
11:00AM to 11:15AM Arrivals. Welcome.
11:15AM to 11:55AM Vigil. Food presentations.
12:00PM to 12:20PM Opening ceremony.
12:20PM to 12:50PM Break. Food tasting.
12:50PM to 1:10PM Bird stories.
1:20PM to 1:40PM Vegan Thanks-Living stories.
1:50PM to 2:30PM Open Mic.
2:30PM to 3:00PM Unwind. Help with cleanup and tear down.
Please bring your own tableware. Consider bringing a blanket or chair to sit on. Leashed friendly dogs and other non-human animals are welcome. Shortly before the event, please familiarize yourself with the latest COVID-19 related regulations for demonstrations in Los Angeles..

LOCATION:
2551 Motor Ave, Los Angeles, CA 90064
Enter Cheviot Hills Recreation Area (aka Rancho Park) at the north entrance on Motor Avenue (the first entrance south of Pico Blvd). When you enter the park, there is a parking area on the left. Drive past this parking area and follow the road to the next parking area which is a few hundred feet down. You will see us on your left side. "VEG" signs will be posted to point the way.

CONTACT:
For more information, you can call Aouie between 9AM and 9PM at 323-ninety then two-68 and last 2 numbers are forty-three.

DISCLAIMERS:
Unless stated otherwise, organizers and participants do not assume any related legal obligations, responsibilities or liabilities, but are expected to behave in a civil and orderly manner, and adhere to any event policies. Participation is at their own risk. Indoor activities, outdoor activities, in-person social interactions and sharing foods have some associated risks, including injuries, allergies, transmissible illnesses and food poisoning.

If you have any related queries, then you can contact Aouie.